Indonesian journalist opens Japanese-language school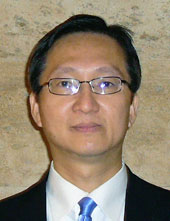 日本語
Richard Susilo aims to serve as a bridge between two countries through education.
It has been half a year since Richard Susilo set up Pandan College, a business Japanese-language school, on the Indonesian island of Bali. At a recent explanatory meeting in Tokyo to recruit additional Japanese teachers, he spoke with fervor in fluent Japanese: "Through education, we will serve as a bridge between Japan and Indonesia."
An Indonesian national born in Jakarta, Susilo, 46, has lived in Japan for 15 years. "Teachers who want high salaries are advised not to come because the pay is low," he said to participants at the meeting. His frankness, uncharacteristic of everyday life in Japan, harks back to his more than 10 years as a correspondent in Tokyo for Kompas newspaper and other media organizations.
Difficult
After the Asian currency crisis, the economy of his home country collapsed and his pay was sharply reduced. Consequently, his work as a reporter in Japan certainly became "difficult." So eventually he decided to start a business and established a company, Office Promosi Ltd., in Tokyo in 2003 where he now edits books and a monthly economics magazine.
Watching diplomatic developments between Japan and Indonesia, he saw an opportunity to set up a Japanese-language school following a bilateral economic partnership agreement promoting the mutual reception of nurses and other skilled workers. He concluded that there "will be a need for a top school to turn out the best students."
He also saw that demand in Indonesia to study Japanese would grow to cater for the expected influx of traveling Japanese baby boomers.
The school ensures that students who have completed its courses find employment at firms in Indonesia or receive short-term training in Tokyo. "We have already made an agreement to staff a long-term residential facility which offers nursing care, which is currently under construction on Bali island," he said.
While these bright prospects sit on the horizon, "Our school is still in the red," he admitted. As Japan-Indonesian relations become stronger, it will not be long until expectations translate into profit.
Nikkei Newspaper, 7 November 2007 (Evening Edition)